Your Goal, A Better Way
We offer two programs but only one way of approaching them: The Better Way. Our no nonsense curriculum, expert staff and support services get you into the right program and then on the job — earning income and building your career. And when you're ready for the next step, we're ready for you.
How We Help You Achieve Success
We want you to succeed. Beyond training, you'll have access to unique features and services you need to start your career.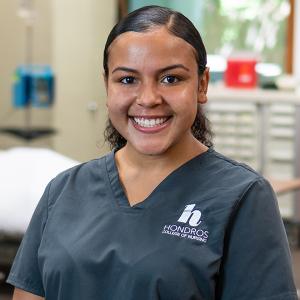 Fury Caldwell
Columbus PN Student
I decided to become a nurse because I have always been an empathetic individual who tends to anyone in need.

I believe everyone deserves to feel supported and looked after. That's what nursing is all about!

I chose to attend Hondros College of Nursing because the school was referred to me by a friend.

If you are new at Hondros, or if you have been a student and need resources, tips, or even just a friend, I am here for you.
Realized desire to help those in need

Wanted to pursue a career in supporting people

Chose HCN because of her friend's recommendation, and the program was a good fit

Enrolled in the HCN PN program at the Westerville campus
Campus Events
College Closed - Veterans Day
College Closed - Thanksgiving Break
College Closed - Christmas
The Better Way to Become a Nurse
Nursing school requires hard work and dedication, but at Hondros College of Nursing, you are never alone. We offer many resources to help you succeed, and support is available at every turn. Don't wait to get started on a path to your dreams.