Learn & Earn in Detroit
Ready to supercharge your career in nursing? With quarterly starts and no wait lists, we're definitely ready for you! You see, we approach nursing education differently than other nursing schools. We don't believe in wait lists or putting you through prerequisite classes that won't make you a better nurse. Instead, our no nonsense curriculum, expert staff and support services are designed to get you into the right nursing program and then on the job — earning income and building your career.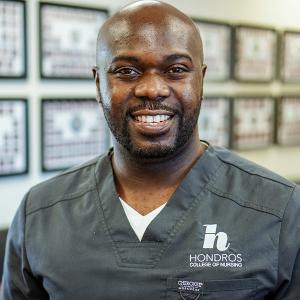 Become an LPN
Earning your practical nursing diploma from Hondros College of Nursing will be the launching pad to your career in nursing.
Learn about our PN Program
FAQs

Our campus is located at 30700 Telegraph Road, Bingham Farms, MI 48025. Our office is not fully operational yet, so we cannot accommodate walk-in meetings at this time.

It takes as few as 12 months to complete the Practical Nursing Program.

You will average 3 days a week for the duration of the program. Classes are scheduled between 8AM and 5PM. Clinicals can start as early as 7AM.

Please understand that this is a forecast of a schedule. It is not a set schedule. When you get closer to your start date, you will receive an exact schedule of class dates and times.

No, our Associate Degree in Nursing program is only approved at our Ohio campuses. Our campus in Toledo, OH might be a good option for you to consider for the ADN program. Your admission representative can talk in more in detail about these options.

Admission requirements include:
Must be a U.S. citizen or have your permanent residency card. (We cannot accept a work visa alone for acceptance)
Must have a valid ID
Must be able to provide proof of graduation from high school or GED. If you did not complete high school in the United States, you must have your transcripts evaluated by an approved evaluator showing your degree is equivalent to the US. Your admissions representative will go over this in more detail.
Successfully pass the HESI entrance exam requirements
Complete a background check with our approved vendor
Click here for the complete list of admission requirements in our student catalog.
The information session will give you a great overview of our Practical Nursing Program and how HCN can help you with your educational and career goals. You will get detailed information on our programs, requirements, cost, financial aid, and scheduling. It will give you an opportunity to ask questions and hear questions from others. Attending an information session will be your first step in the admission process. It will also give you the best head start with applying and scheduling your HESI exam.
Yes. Financial aid is available for those that qualify.
We have received a lot of interest in our new Detroit campus, and we will have limited spots available for our Practical Nursing program. It could take 3-6 months to enroll based on when you inquire and start the admission process. We appreciate your patience.
Our Practical Nursing program does not have any prerequisite classes needed prior to your acceptance. We do accept transferable credits. Your admissions representative will provide you this information when setting your appointment for an information session.
Hondros College of Nursing is institutionally accredited by the Accrediting Bureau of Health Education Schools (ABHES). The Accrediting Bureau of Health Education Schools is recognized by the United States Department of Education.
The Hondros College of Nursing Practical Nursing program is accredited by the National League for Nursing Commission for Nursing Education Accreditation (NLN CNEA) located at 2600 Virginia Avenue, NW, Washington, DC 20037.
Hondros College of Nursing's Bingham Farms (non-main) campus is approved by the Michigan Department of Labor and Economic Opportunity, 201 N. Washington Square, Lansing, MI 48913.
For complete information about our accreditation and approvals, visit our website at https://www.hondros.edu/about/accreditation
No, students are not permitted to transfer between campuses and must complete where they start.
Detroit Campus at a Glance
We want you to succeed. Beyond training, you'll have access to unique features and services you need to start your career.
Ashley Bussey
I chose nursing after I became a teenage mother and my son got diagnosed with asthma.

I toured the school and was convinced this was the school for me.

My advice to future nurses, Never give up!

I am currently an Emergency Room Nurse in a Level 1 Trauma ER in Detroit!
Realized desire to pursue nursing by caring for son

A friend suggested HCN

Graduated ADN program in 2021

Emergency Room Nurse
Contact Us
Explore the Detroit Campus
Use our virtual tour to view spaces, such as classrooms, laboratories, simulation environments, and more. The best part, it's available 24 hours a day, seven days a week!