Scholarships
Below are links to different scholarships, loan forgiveness programs, and scholarship searches Hondros College of Nursing students may use. Make sure to review the websites for each opportunity carefully. Application deadlines, and requirements for approval may vary from one scholarship to another.
The Allen Endowment Scholarship - Awards range from $500 to $1,000. Scholarship applications and eligibility requirements will be provided upon request via email to

[email protected]

.
FastWeb's free scholarship search includes more than 600,000 scholarships worth more than $1 billion. FastWeb also offers expert advice and how-tos on financial aid, scholarships, selecting a major, choosing a career and more.
FinAid was established in the fall of 1994 as a public service. This award-winning site has grown into the most comprehensive source of student financial aid information, advice and tools — on or off the web.
Loan Programs
Private Loans
Private education loans are private loans available through lending institutions to help bridge the gap between your educational costs and available federal and state grants and federal student loans. These loans are credit based loans that require you to have established credit or a co-signer. Private education loan programs differ from lender to lender, so it is important that you know the terms and conditions of the loan and your rights and responsibilities as a borrower. Always apply for Federal loans first.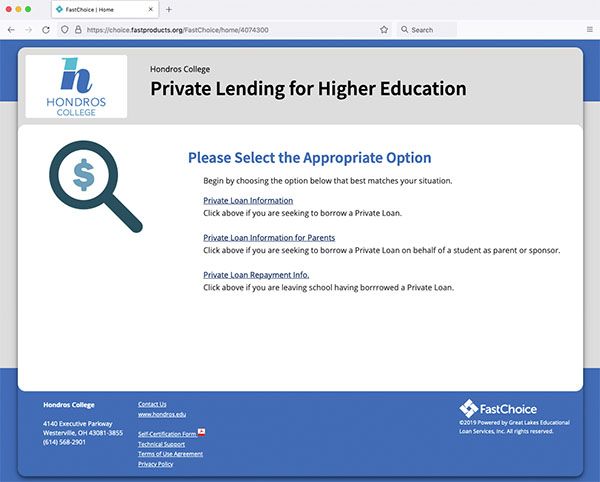 FASTChoice
Hondros College of Nursing uses FASTChoice, a free online private student loan selection, disclosure, and student education tool to offer a selection of loans. Using strict criteria, we have identified only those lenders who will provide you with exceptional customer service and excellent incentives (e.g., low interest rates, no origination fees, and loan principal reductions, timely processing, and electronic funds transfer capabilities when possible). We annually review all the information provided to ensure that the benefits lenders offer continue to adhere to our criteria. Loan options that no longer adhere to our criteria are removed and new loan options that meet our criteria are added.
You are free to select any lender and loan option, including those not presented. If you choose a loan option that is not presented, please follow the provided instructions to complete the application process. Application processing will not be delayed unnecessarily if you choose a loan option not presented.
We maintain professional relationships with all lenders. Our officials are prohibited from accepting financial or other benefits in exchange for displaying lenders and loan options in FASTChoice. These include: receiving compensation to serve on any lender board of directors or advisory boards; accepting gifts including trips, meals, and entertainment; allowing lenders to staff our institution's financial aid office; allowing lenders to place our institution's name or logo on any of their products; and owning lenders' stock (for those college officials who make loan decisions for our institution).