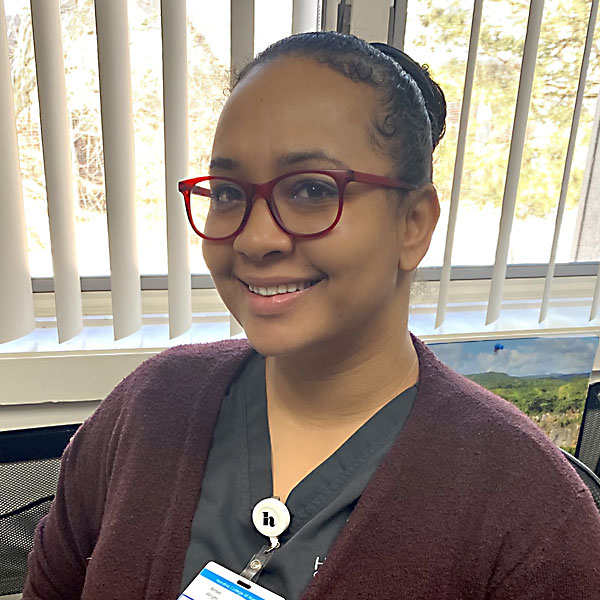 I started on my journey towards education later than most. I received my GED in my early 20's and immediately started college to become a medical assistant back in 2009. While I was in MA school, I started thinking about the possibility of becoming a nurse. I knew that I was a nurturing and empathetic person, but I struggled with having the title of a nurse. At times I did not think I was good enough. Once I graduated with my associate degree, I started community college. For many years I went back and forth between psychology and nursing. During this time, I was still working as a MA. Once my daughter was born, I felt a push to make a clear decision and stick with it. I wanted to give her and myself the stability that we needed and to be a good example for my daughter.
One day out of the blue, I received an email that Hondros College of Nursing's Akron campus was opening for night class and it was directly across from my job! The hours enabled me to work and attend classes full-time. My daughter and I moved in with my mom June 1st and I started nursing classes July 5th. Everything happened so quickly and although there have been struggles, everything I needed to complete my nursing degree was directly in front of me. This was the confirmation I needed that I was on the right journey of becoming a nurse!
I chose Hondros College of Nursing for a few reasons. I knew I needed a college that offered evening nursing classes. Additionally, I was drawn to the small class sizes and the location. Last, I liked the program's timeline because I already had a full schedule.
I would advise anyone who is thinking of starting nursing school to be sure that this is the path they want to take. Too much time, money, and sacrifices are involved to be unsure. If you have children, make sure that you have at least two people you can depend on. I would also advise you to make sure you are able to set clear boundaries with people. A huge part of nursing school is being able to say no to people because you are committing yourself to becoming a nurse and it will take almost everything in you to get there. Nursing school is hard, but you are tougher!
Amber Wright is a student in the Practical Nursing program at our Akron campus.