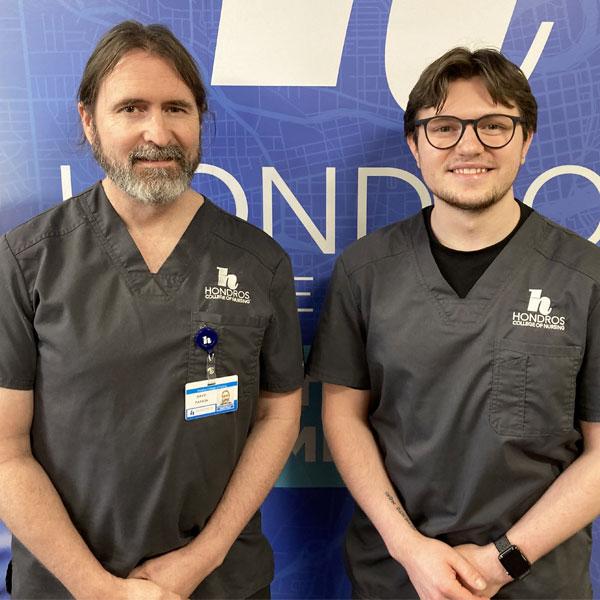 David: My career is not just starting. In fact, I'm mid-career. I have worked in healthcare for 30 years as a clinician, administrator, and educator. I am pursuing a PN license, with plans to advance to RN to reach my long-term career goals. Those goals revolve around addressing the nursing shortage by effecting legislation, education, and compensation for nurses and nurse aides. With that being said, I am looking forward to serving patients in a nursing role. I am grateful for the time I get to spend with patients as a nurse's aide. Making a difference in the lives of patients is a reward beyond any professional achievement. I am excited to transition my service to nursing.
Brodie: Initially nursing was not my first choice - in fact it was one of my last. With my family having a deep-rooted medical background I wanted to try something new. As I grew up and learned more about myself, I was confident nursing was for me. My desire to help those in need and my ability to perform well under stress made it a clear choice. Now that I have started my path, I couldn't be more confident.
David: I have a unique insight into nursing school options. I come from a family of nurses. In fact, one of my children is a career nurse aide, and two are Registered Nurses. My youngest son (Brodie) is also a nurse aide who is going through the program with me! My wife has been a nurse educator for more than 20 years. She's taught in PN and RN programs. Brodie and I never really had any discussions about where to go; Hondros College of Nursing was a given. We were both prepared for a fast-paced program, even more so as a team. My daughter completed the Practical Nursing and Associate Degree in Nursing programs through Hondros.
Brodie: As mentioned before, my family has deep-rooted medical backgrounds. My sister Harley attended Hondros College of Nursing a few years ago. After hearing about her experience, I knew this place was for me.
David: I talk to a lot of prospective nursing students. My best advice is to tell them that completing nursing school is a commitment. Students who say to themselves, "Come what may, I am going to complete this!" finish successfully. Nursing students sacrifice life events while they are in nursing school. Vacations, hospitalizations, birthday parties, regular sleep, weddings, and many other things may end up squeezed out by the demands of nursing school. If it were easy, everyone would do it.
Brodie: To those considering nursing school, do it! It is never too late to start a career and nursing is an awesome way to give back to the world and do something good. There is no better feeling in the world than making your patients feel safe and well cared for and your impact on them is greater than we could ever understand.
David and Brodie Paxson are students of the Practical Nursing Program at our Dayton campus.