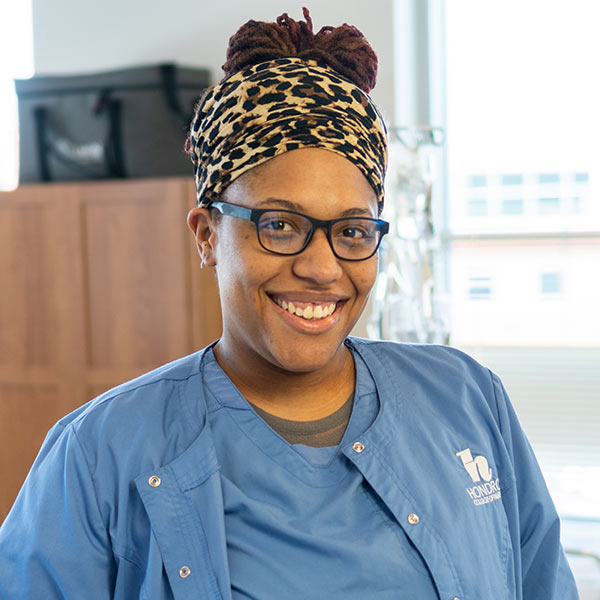 I've always wanted to be a nurse, or at least in the medical field, because I wanted to be like my aunt who was a great RN. I wanted to wear the "cool scrubs." I never really knew what it took to become a nurse, other than saving lives and looking cool while doing it! Initially I went to another nursing school and quit because I wasn't motivated enough. My nursing friends told me to become an STNA (State Tested Nursing Assistant) first because I would appreciate it more and become more knowledgeable about the field. They all told me I would be a better nurse after working as an STNA, and after being an STNA for almost 2 years, I completely agree that I will be a better nurse because of my experience.

I was looking online for a nursing school where I could get started right away, as well as a school with small class sizes, and a great academic support system. When I came to Hondros College of Nursing at the Akron campus, I saw the amazing support system I was looking for! Taylor in admissions was amazing and made me want to go to this school and gave me very "warm and fuzzy" feeling about the amount of support I would have during my nursing school career. I was already convinced after the huge congratulations I received after passing my entrance exam, but when I went to orientation I knew that everyone would be there to support me and push me along the way, and they have done just that! I feel so supported here at Hondros; I honestly don't think I would have gotten this kind of support anywhere else.

The biggest advice I have for potential nursing students is to always remember why you started nursing school and keep that in mind when things get difficult. Nursing school in an accelerated program is very hard and stressful, but it is worth it at the end of each term, when all your hard work pays off and you pass!

Joy King is a student in the Associate Degree in Nursing program at our Akron campus, she currently works as a traveling STNA.